Do you ever feel like you're trapped in a cycle of just going through the motions every day? Trying to make everyone else happy but never feeling truly free yourself?
Do you want to be a fulfilled woman, but you just feel fully overwhelmed instead?
If that's you, this post is for you. Over the past year, I've discovered that it is entirely possible to be a great wife and mom and still be a free and fulfilled woman.
As I've gone through this journey over the past year, I've learned a lot, and I thought I'd take a moment to share with you a bit of what I've learned. But first, a bit more about how I got here.
At the end of 2015, I made a decision: I was no longer going to live according to what I thought everyone else expected.
Instead, I was going to start walking more fully into my gifts, passions, and calling. I was done trying to make everyone else happy.
I'm a wife, mom, ministry leader, employee, business owner, daughter, sister, friend. With those relationships come expectations, needs, and sometimes even demands.
When you like to succeed and please others, it's easy to fall into the trap of doing things simply for the recognition or to make someone happy.
It's hard to start saying "no" to things and feel like you are letting people down.
2016 turned out to be one of the best years of my life. I have felt more fulfilled in the past year than I have in years.
It also was one of the most challenging, emotional years of my life. I'm even considering starting a hashtag (#mycryfacedlife) because of how much crying I've done. But that's another story for another day.
Here's 5 things you can do to live a more fulfilled life as a Christian woman:
1. Choose a word for the year.
I know, I know. It's the trendy thing to do right now. And honestly, I'm usually not into trendy things. (I still refuse to buy a pair of LulaRoe leggings. I suppose it's the rebel in me).
But last year, I decided to actually choose a word. Actually, I ended up choosing 2 words: Flourish & Focus.
I believe choosing these 2 words helped me to have a focus point for the year. Whenever I started to question what I was doing or look at others around me doing different things, I could come back to those 2 words.
I based my words (or at least the first one) on a scripture verse:
The righteous flourish like the palm tree and grow like a cedar in Lebanon. They are planted in the house of the LORD; they flourish in the courts of God.
-Psalm 92:12
This also helped me remember that the way I was going to flourish was going to be to stay rooted in God.
2. Decide what is most important to you.
In order to live a fulfilled life as a woman, you've got to know what is most important in your life. Otherwise, you won't have a way to tell whether you are succeeding in that goal.
I encourage you to take some time and really think about what you want your life to look like. What do you want to be remembered for when you are gone? What kinds of relationships are most valuable to you?
As I pondered these questions, it helped me to formulate how I wanted things to look in my daily life. For me, as for many of you, faith is my top focus. So my days needed to reflect that.
I needed to MAKE time in my schedule to spend time with God. It doesn't just happen, and if I don't plan to set time aside, it's easy to get filled up with less important things.
Once you know what is important to you, start doing what you can to create the life you want.
3. Do more of what you love.
Now I realize this may be misinterpreted and twisted to mean something it doesn't. So let me clarify.
When I say "do more of what you love", I'm talking to you women who have been putting yourself dead last and focusing on everyone else's needs, to the detriment of yourself AND those around you.
Once I started doing more of what I loved – things like writing, getting out into nature more often, enjoying my coffee in the morning while watching the birds, planning time to be with friends – I started becoming a better wife and mom.
I don't think it is selfish, as a woman, to consider what fills you up. Your cup must be filled up before you are able to give out effectively to others.
4. Stop trying to please everyone around you.
This one goes hand-in-hand with the previous point, but it's a bit different. When I decided to start pursuing my goal of writing, I ended up stepping back somewhat from a business I had worked for about 9 years.
In that process, I felt as though I was letting a lot of people down. Even though I was doing some things that I loved (writing, getting more involved at my church), it seemed like I was disappointing people.
But I made the decision that the people I want to please are very few: God, my husband, and my daughter. Their opinions about how I am spending my time are the most important. After that, it doesn't really matter.
It is extremely freeing to let go of everyone else's opinions of you.
5. Give your life over to God.
After all is said and done, the reason I am feeling more fulfilled and free than ever before is because I have given up. I've given up control and handed it over to God.
In the summer of 2015, I prayed a prayer. That prayer came from the book "Anything" written by Jennie Allen. I made the decision to say to God, "I will do anything". That is one of the scariest and most freeing things you can do as a Christian.
When you are trusting God to lead you in HIS path, then you truly do not have to be worried about what everyone else thinks. You can trust God to use you in the ways that He wants, and often these ways will not make sense to others.
So, if you haven't guessed it yet, my word for this year is FREEDOM.
I want to walk in the freedom God has given me. I'll be working on becoming debt-free. I'm also focusing on experiences over STUFF.
My verse for the year is Galatians 5:1 – "It is for freedom that Christ has set us free. Stand firm, then, and do not let yourselves be burdened again by a yoke of slavery."
Want to use this image as a phone lock screen? Feel free to save the image for your own use!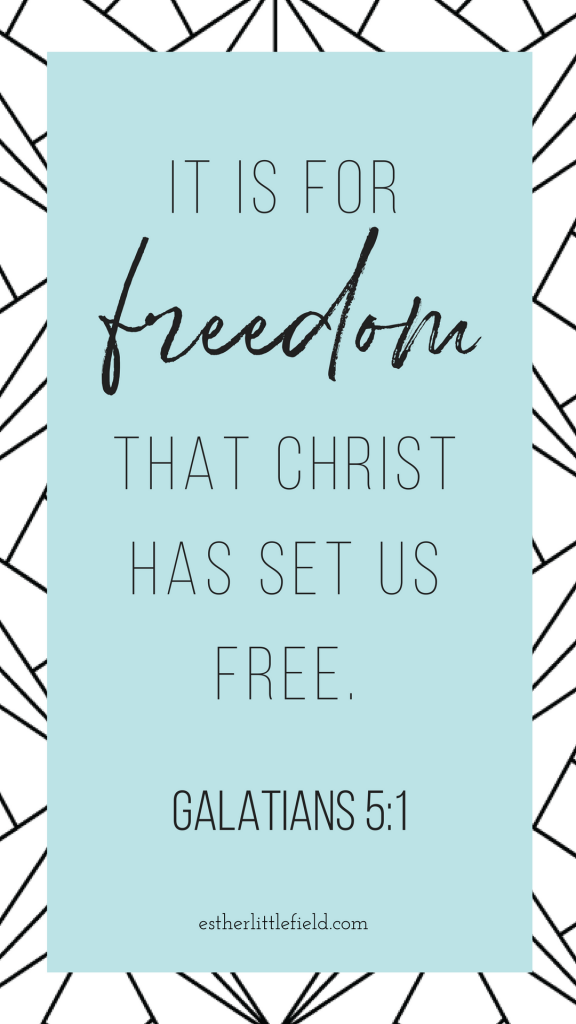 Friends, we do not have to live as slaves. We are free.
One of my favorite songs from the Newsboys goes like this:
Through You, the Kingdom comes
Through You, the battle's won
Through You, I'm not afraid
Through You, the price is paid

Through You, there's victory
Because of You, my heart sings
I am free
Yes, I am free

And I am free to run
(I am free to run)
And I am free to dance
(I am free to dance)

And I am free to live for You
(I am free to live for You)
I am free
(I am free)
Yes, I am free
(I am free)
So friend, tell me, what will you do to live more fulfilled and free this year?
Do you have a word for the year?
If so, share with me in the comments below!