I've hesitated to share my thoughts on the current situation with the coronavirus. I am not a medical expert nor do I claim to have all the answers. And I'm certainly not as informed as many others about the current crisis.  However, based on what I've been seeing happening online, I do have some thoughts on how to handle this situation as a Christian leader that I want to share with you. These are especially pertinent given the coronavirus situation, but can apply to any crisis we may face.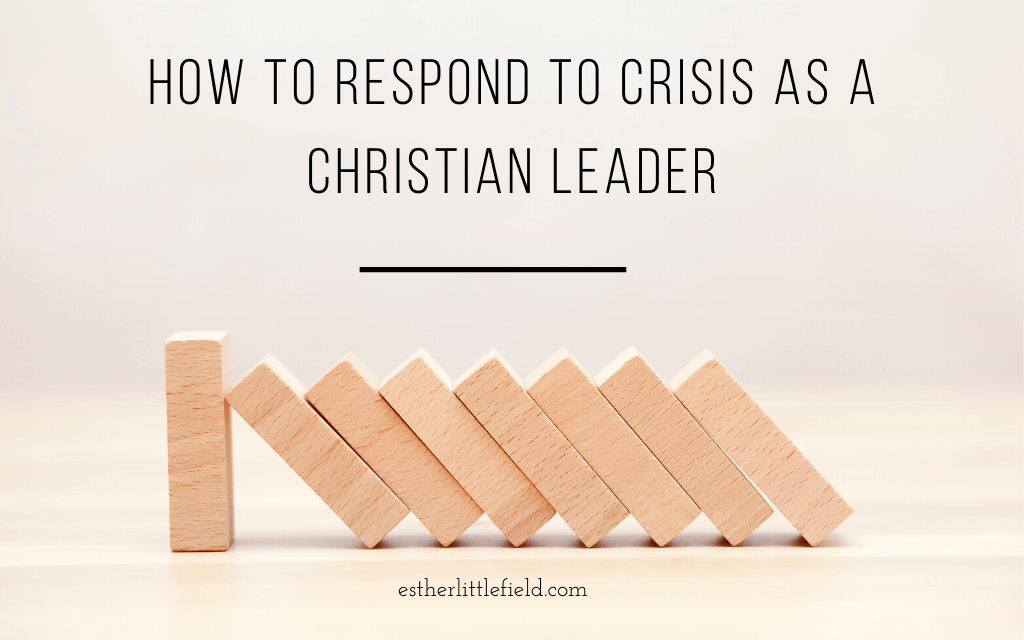 1. Don't give in to fear
The media machine runs on fear. The more shocking the headlines, the more readers or viewers they get. So as we consume the news or information from any media source, we must remember that we do not have to be sucked into the fear. And likewise, we should be cautious not to be pulled into politicizing the crisis. As Christians, we trust in God who is sovereign and in control, not in earthly circumstances or political leaders. As 2 Timothy 1:17 says, "for God gave us a spirit not of fear but of power and love and self-control."  Fear does not have to dictate our reactions to what's happening in the world. In fact, fear should not dictate our reactions. In John 16:33 Jesus said this: "I have said these things to you, that in me you may have peace. In the world you will have tribulation. But take heart; I have overcome the world." He knew that we would face all kinds of trials in this world. Yet, as believers, we can have peace because of Jesus. When we buy into fear, we are not living in the peace that God has offered us. If you've found yourself feeling fearful of what's to come, spend time meditating on Scriptures that remind you of the peace you have in Christ.  A few more verses you can look up:
Colossians 3:15

Philippians 4:6-7
2. Be informed, not apathetic
In times of crisis, there is information coming at us from all kinds of channels: social media, news outlets, friends and family, etc. It's hard to know what to believe.  And as tempting as it is to bury our heads in the sand and pretend nothing is happening, I strongly encourage you to spend some time becoming informed about what is actually happening. That means going to trusted sources rather than relying on shared social media graphics or posts. Over the past weekend and early this week, I was attending a conference in Wisconsin. I was so busy with all the activity going on there that I hardly had a moment to catch up with any information at all, including social media. So when I got settled back in at home on Thursday, I spent some time doing a bit of research to start really figuring out what is happening. I was seeing posts from both extremes on social media ("the world is ending and everyone should stay inside indefinitely" vs. "this is ridiculous and it's no different from the flu"). But I decided to dig deeper and try to become more informed. Generally speaking, I don't love consuming a lot of news because I find it affects me negatively. Sometimes this leads to apathy because I simply don't want to do the work to dig deeper and figure out what the truth is. But I know that a better response is to find sources that provide facts without a lot of opinion included. This is what I would encourage for you too, as a Christian leader, anytime we are facing a crisis situation.  Here's a few sources I found helpful in terms of understanding the current coronavirus situation:
3. Pray
One of the biggest ways we can take action in times of crisis is to pray. But I'll be honest: there are times when I feel like praying isn't an active response. However, Scripture supports the idea to pray at all times, including times when we have no idea what the outcome will be. I encourage you to pray for the regions where the virus is hitting the hardest. Pray for those who have contracted the virus as well as those who have lost loved ones due to it. Pray for wisdom for our leaders—political leaders, spiritual leaders, scientists and medical professionals who are working hard to combat the situation. In addition, pray specifically for your local church and local community leaders. Many of these leaders are making incredibly difficult decisions and they need your prayers.  
4. Refrain from judging other people's decisions
This is a big one, friends. I have seen so many posts from Christians and non-Christians alike casting judgement towards anyone who is dealing with the crisis in a different way than they are. I saw one post that implied that any church that chooses to shut it's doors during this time is not relying on God and is acting in fear. And then a different post that basically stated that any church who remains open is being irresponsible and unloving towards their community.  As I shared in response to one of these posts, the coronavirus pandemic is a very complex issue. There are so many factors at play, including state and local government recommendations, the makeup of your community and church, the region where you live, and much more. 
It's unwise to cast judgement on a fellow Christian (or non-Christian) and imply that they don't have enough faith or they aren't acting in love because they are approaching the situation differently than you are.
So please, just don't do this. "But avoid foolish controversies, genealogies, dissensions, and quarrels about the law, for they are unprofitable and worthless." – Titus 3:9  Let's do our best to not argue foolishly. Yes, we can discuss and examine the issues and help each other make wise decisions. But let's refrain from causing unnecessary dissension.  
5. Support those affected by the crisis
In our current situation, many businesses are being impacted financially by this crisis. Events are being cancelled, travel is being restricted, and many schools and even workplaces are being closed. This means that many people—business owners and employees alike—are going to be financially impacted by the loss of work.  If you are able and in a position to do so, I would encourage you to support those affected in this way. One thing you can do is choose to do business with companies that have been impacted. Provide a meal or offer to help a neighbor. Look for ways—small and large— to help out anyone who is feeling the impact. As an example, I had Valerie Woerner of Val Marie Paper on my podcast this week. She was traveling to Spring at the Silos this week and they had all of their products set up and ready to go for the event when they learned the event was going to be canceled. For a small business, the financial impact of this is significant. So I am encouraging my audience to go and make a purchase at her online shop as a way to help them recover some of the financial loss. I am sure there are dozens of other business owners and friends who you know that could use your support. If you area leader, you likely have people on your team or in your congregation who need your support, whether it's financial, emotional, or spiritual. Be there for these people in whatever way possible.  
6. Lead with wisdom not hype
Finally, as Christian leaders in the time of a crisis, it is essential that we lead with wisdom. It is vital that we do not contribute to hype and fear. At the same time, it makes sense to seek wisdom as we make decisions and lead those around us.  We have an opportunity to set the example for how to respond. If we are responding reactively OR if we are responding in a completely ambivalent way, those who follow us may follow suit. This is a chance to step up and lead your family, your team, your church, or even your friends in a way that is level-headed and calm. "Show yourself in all respects to be a model of good works, and in your teaching show integrity, dignity, and sound speech that cannot be condemned, so that an opponent may be put to shame, having nothing even to say about us." – Titus 2:7-8
Consider your actions and your speech—are they sound and filled with integrity and dignity, or are they reactive, fearful, or apathetic?
The truth is, we are never going to respond perfectly 100% of the time. We, as leaders, will make mistakes and will decide things that we realize later should have been different. However, I do believe we can approach this coronavirus pandemic with these principles in mind, we will do a much better job of handling the situation  Finally, if you are a church or business leader, here are a few other articles you may find helpful: 
What about you? Do you have thoughts on how we should be responding as Christian leaders? Share them with me in the comments below.