Being the nice Christian girl has benefits, and it can actually lead to positive outcomes many times. But what if being nice is the wrong goal for us as Christians?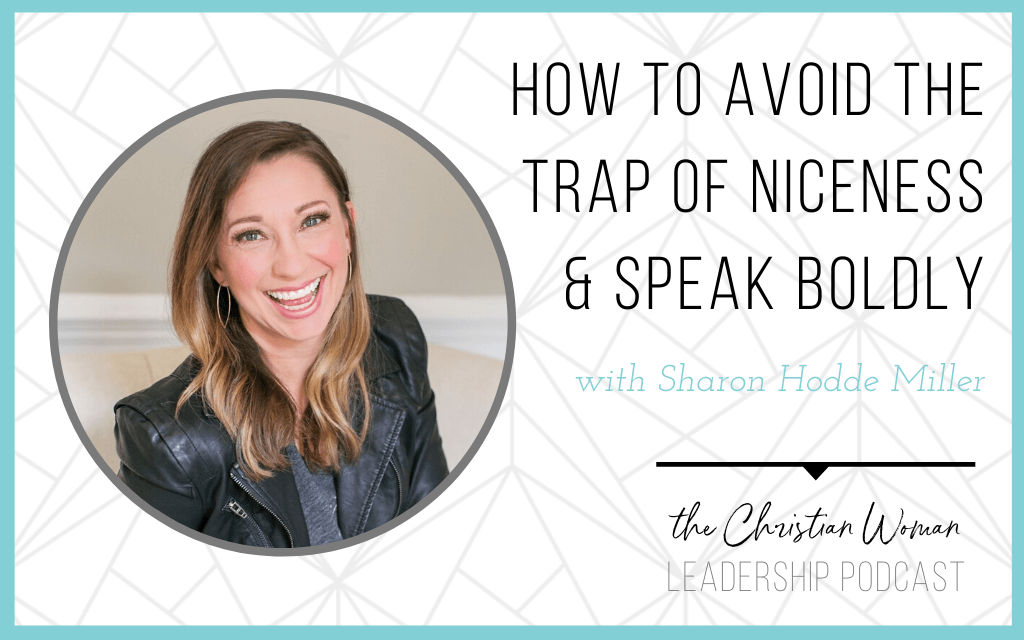 This post contains affiliate links, which means if you choose to make a purchase via one of the links, we will receive a commission at no extra cost to you. This helps to support the costs of running the podcast and blog.
In the final episode of our communication series, Holly and I chat with Sharon Hodde Miller about the issue of niceness. She shares why it's a problem when we make it our goal to be nice, the difference between niceness and kindness, and what niceness stops us from doing. In addition, you get to hear about Sharon's journey as a leader, how God has led her to do things she didn't ever anticipate, and how she stays healthy as a wife, mom, and pastor.
Sharon's Leadership Journey [3:45]:
Sharon first discerned a call to ministry in college. She started her career as an intern at Proverbs 31 Ministry. It was then that she noticed that many women get into speaking and writing based on their story. She didn't have a dramatic story or testimony, but she realized that men do not get into ministry due their story or testimony–they just go to seminary. So that's what she decided to do. 
Her husband was a pastor and he would occasionally bring up the idea of doing ministry together. But she never really took this seriously. 
Later, he got the call to plant a church, and this was something they never anticipated doing. In their area, he saw that women were leading in the workplace, but not in the churches. He felt that they should be teaching women what it's like to lead in the church, not just in the workplace. So he suggested to Sharon that she should be one of the pastors of their church. 
Sharon is grateful for her husband and his heart for women, as well as the opportunity that she has to preach to their people. 
In addition to leading their church alongside her husband, Sharon is also a mom to 3 young children and a writer and speaker.
The Problem of Niceness [12:30]
Earlier this year, Sharon published the book: Nice. The book came about when she realized that her "nice Christian girl" image was not really about her faith; it was also about the personal rewards being nice brought. Being nice earned her a lot of approval when she was younger, especially from adults. 
She realized that her motivation to be nice and her desire for approval was not something she left behind as a child–she was still dealing with this in her adult life. She recognized that she was hesitating to be obedient because of being enslaved to the nice girl image.
She notes that the nice Christian girl image can also produce financial benefits, especially if you are an author or speaker. If you stay away from certain topics, people will like you.
"There is a nice Christian girl image that, if you are in ministry, will be very profitable for you."
Sharon came to a point when she realized that she was hesitating to publish a blog post because she was concerned about what people would think. 
"I had to make a choice between continuing to serve the 'nice girl' image or to serve God."
This is a constant choice for Christians, and it was a choice that even the prophets in the Old Testament had to make.
Difference between niceness and kindness [17:50]
Kindness is a fruit of the spirit; niceness is not. You can discern this in your own life by asking: How do I respond when my niceness or kindness is not reciprocated? 
"Niceness seems to be about the other person, but it's really about you. It's about trying to ensure a certain type of response." – Sharon Hodde Miller
When niceness is not reciprocated, it flips to bitterness and entitlement. 
On the other hand, kindness is fundamentally oriented towards God and others. It perseveres regardless of how it's treated.
The trap of niceness [21:30]
Sharon shares a story about their family's Christmas tree one year–it was completely dead and rotting, but it looked beautiful on the outside. This is the trap of niceness: we can look alive and dressed up on the outside, but we can be dead or dying on the inside. 
With niceness, she says, "We can hide the true state of our souls."
The danger of niceness is that we know what it looks like to be a Christian on the outside, but inside our souls are withering.
"There are so many people in the church who are not actually free because they've settled for this appearance of Christianity instead of the real thing."
Why we need discernment as leaders [27:30]
Sharon points out that niceness can conceal corruption. Sometimes we will believe the nice appearance even if there are signs that there is a problem. If someone is nice to us, we might ignore the red flags that are there.
Discernment is necessary so that we can recognize what is truly going on, rather than being fooled by niceness.
It's also needed for the purpose of protecting the 'least of these' and representing God's care for the vulnerable. We will fail to do that if we settle for the facade of niceness.
The importance of integrity in our leadership and in our church communities [34:20]
As church leaders, we are called to be set apart. We are in a crisis of integrity in our leaders, and it's important to be developing our integrity. Integrity is not just about the big decisions but also about the small, daily decisions we have to make.
"Integrity matters. Character matters. Holiness matters. Being above reproach–it matters. And it matters in the small things and it matters in the big things." 
Sometimes as leaders, we conceal things because we think that we need to protect the reputation of Jesus or of our churches. But Sharon points out that this is erroneous thinking.
"What stands in the way of people coming to the church or to Jesus is if we are more concerned with the church's reputation than with people's freedom and safety."
As leaders, it's important to admit when we have messed up and be honest about this. Holly shared some tips on this in episode 74.
Speak Boldly – Why We Need to Be Willing to "Lose People" as Leaders: [38:00]
Sharon refers to the analogy of pruning a peach tree. There is a type of pruning that leads to less but better fruit, and we need to be willing to do this as Christians. 
We need to say "no" more often, but we also need to be willing to 'lose people' by speaking truthfully and boldly rather than simply saying what will make people happy.

Often we measure success by numbers in ministry, so there is a temptation to avoid topics that are difficult… to stay bland. 
"People love candy; but what people are craving is a meal."
How Niceness Keeps us from Having the Hard Conversations [43:10]
In our relationships, we sometimes avoid hard conversations for the sake of being nice and avoiding conflict and confrontation. But the loving thing to do is often to speak up and speak truthfully.
The central question to ask is "what is loving?".  Often what is loving will require you to die to yourself, because it will not be easy.
"Niceness will never ask you to die to yourself."
How We Can Become Courageous Leaders [47:11]
Sharon points out that being courageous is usually not about one big decision, but rather about small daily acts of faithfulness… being honest instead of being inauthentic, having integrity, getting into God's word and praying daily.
Courage is a muscle that has to be strengthened–it takes practice.
Cultivating a Better Tree by Embracing Your Design [50:04]
Sharon shares that she is a loud person, but she has never struggled with feeling like she is "too much". She's blessed to have a father and husband who have never made her feel this way. 
At the same time, she recognizes that her words can be used to sin, so she wants to become more like Jesus in the way she speaks. She is also actively studying empathy so that she can work on this area of her personality.
Leaders Are Learners: [56:10]
Habits and routines Sharon implements to stay healthy
Sabbath

Boundaries and saying no to a lot, especially speaking engagements
Advice for the woman starting out in her career or ministry [58:45]
"Don't quit." 
Whatever you feel God is calling you to, trust that enough to keep going when you fail–when it doesn't happen right away.
"Most of the leaders that you see are there because they persevered when no one was paying attention to them."
Sharon reminds us to receive the grace of the slow climb.
What Sharon is learning: [1:01:15]
This Cultural Moment Podcast – A podcast about following Jesus in the post-christian world.
Other Links Mentioned:
Nice by Sharon Hodde Miller
Episode 74: What to Do When You Face Hard Situations in Leadership [Communication Series]
Connect with Sharon Hodde Miller:
Website
Instagram
Facebook
Twitter
Sharon Hodde Miller leads Bright City Church in Durham, NC alongside her husband, Ike. In addition to earning her PhD, Sharon has blogged at SheWorships.com for nearly ten years, making God's Word accessible to women everywhere.  

Author of "Nice: Why We Love to Be Liked and How God Calls Us to More" and "Free of ME: Why Life is Better When It's Not About You", she has been a regular contributor to Propel, She Reads Truth, and Christianity Today, and has written for Relevant, (in)courage, and many other publications and blogs. 

She speaks regularly on topics ranging from leadership to body image to Scripture. She and her husband have two sons and one daughter.
Stay Connected:
Subscribe on your favorite podcast app. Click here to find all the options where you can find the podcast.
Join our Purposeful Leadership Facebook group! In the Facebook group, we can chat about what you need as a leader, what your challenges are, as well as celebrate the wins. This is a great community to learn and grow together. We want to get to know YOU.
[convertkit form=5179709]
Other Ways to Connect with Esther and the Christian Woman Leadership Podcast:
Episode Sponsor: Confident Conversations
If you'd like to learn how to initiate and lead hard conversations as Christian woman–even if you struggle with confrontation, aren't sure what to say, and want to avoid hurting people in the process–then grab my mini-course, Confident Conversations. 
Learn how to have courageous conversations that lead to more connection and conflict resolution in this 5-step minicourse for Christian women.
You'll learn how to:
Get the timing right

Be guided by your faith in hard conversations

Know how to approach the convo

Develop the right mindset

Use the exact words and phrases to help guide your hard conversations
Get the mini-course here: http://confidentconversations.co
Pin it for later: