As a leader, you may deal with isolation in ministry. What causes that isolation, and what do you do when you feel like you have nowhere to turn? And how can you use Jesus' example to develop and maintain healthy relationships in ministry and leadership?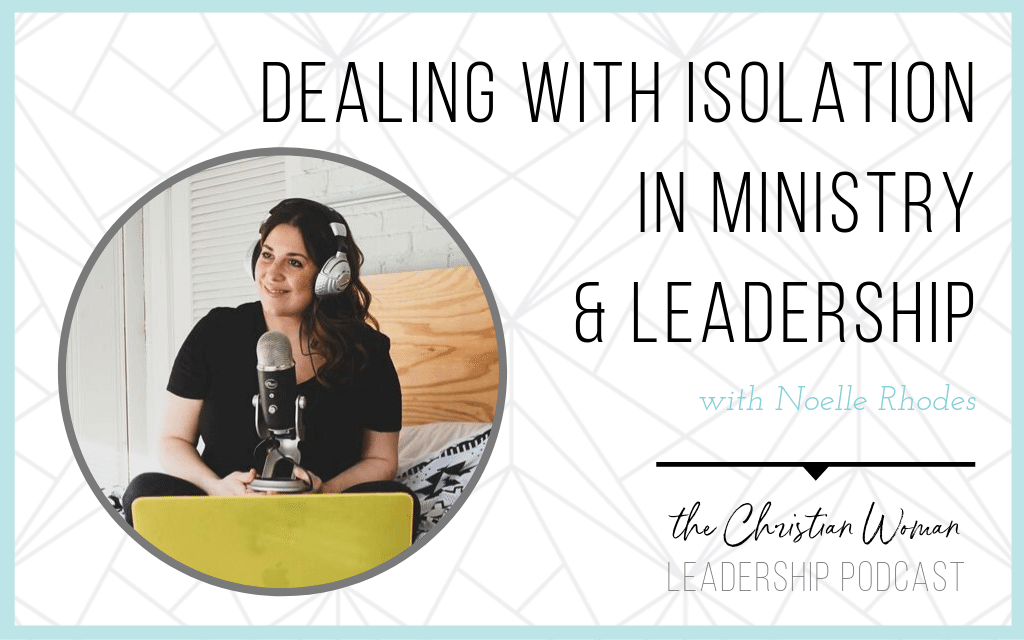 This post contains affiliate links, which means if you choose to make a purchase via one of the links, we will receive a commission at no extra cost to you. This helps to support the costs of running the podcast and blog.
In this episode of our Friendship Series, I talk with pastor, writer, and podcaster Noelle Rhodes about dealing with isolation in ministry and leadership. She shares her leadership journey, which includes a period of anxiety and depression. She tells us how she got through that season and how her relationship with Jesus changed as a result.
Noelle and I also talk about the importance of friendships, vulnerability, and dealing with crisis situations in leadership. If you feel lonely as a leader, you'll gain insight and practical strategies on how to move away from isolation and toward friendship.
Noelle's Leadership Journey
Noelle grew up in the church, but thought of Jesus as "Uncle Jesus"–someone her parents knew and who sounded cool, but she didn't know well. She was very aware of the cultural expectations about being a Christian so she decided to go to Bible college. 
She was good at pastoring because it used her natural skill set, but she had a breakdown and realized she didn't know Jesus at all. Noelle desired to know Him.
"Sometimes the path is clear, but mostly it isn't." 
Struggling with Anxiety & Depression
As she pastored, Noelle operated out of her natural gifts, but not from a place of God's love. Because ministry is spiritual and relational, it gets exhausting when you're doing it out of your own power. 
Before her first child, Silas, was born she began feeling anxious and depressed. She started passing out because of panic attacks. She also experienced postpartum depression after her son was born.
When Silas was one year old, she found out she was pregnant again. Those nine months were hard for her because she was anxious all the time and became paranoid. 
Her depression and anxiety were at such a high level that she couldn't hide them anymore, but she didn't feel safe enough to tell people she was struggling: she thought she might lose her job at church.
This situation also affected her marriage. Her husband Troy doesn't struggle with anxiety or fear, so it was challenging for him to understand. They sought out counseling at that time, and at other times in their marriage as well. 
After her daughter was born, Noelle knew she needed to really know Jesus. Her experience with depression taught her that she didn't just need the church, but Jesus.
[bctt tweet="As a leader, you may deal with isolation in ministry. Find out how you can overcome this issue and develop real friendships." username="_estherdawn"]
During this time, Jesus was molding her into a leader, but a very different type of leader than she ever expected. She now leads from a place of weakness. 
Learning to Listen to Jesus
Noelle started to connect with Jesus in two ways: reading her Bible and prayer. She started to read her Bible not just to prepare her message, but to get to know Him. 
Two weeks after her daughter was born, the house they were living in (provided by the church) caught fire. Soon after that, Troy brought up that they should be missionaries to Northern Ireland, and surprisingly, Noelle felt at peace about it. 
But their church didn't want them to leave. The situation became awkward and difficult.
This meant Noelle really had to listen to the Lord. Before, she took her cues from church leadership and others around her. In this situation, she felt God leading them to Northern Ireland, but the leadership disagreed. 
For 18 months, they lived in tension. Noelle had always preferred to have people excited and on board with their decisions, but in this situation, that wasn't happening. However, God provided the confirmation for Noelle and her husband, as well as the finances they needed to move forward.
"The Lord was saying, 'You have to listen to me, and when you do, I'm going to provide for you.'"
Noelle's Time in Northern Ireland
Noelle and her family were in Northern Ireland for two-and-a-half years when things fell apart for the church and organization they were working for. Noelle and her husband had to help shut down the church and move to a different part of the country. 
Simultaneously, her son Silas wasn't progressing developmentally. Noelle felt lonely and lived in chronic uncertainty because she couldn't share all the details of their situation. 
Noelle thought that ministry success looked like saving Northern Ireland and building the church, but the opposite happened. Ministry success looked like abiding in Him and then the fruit comes; maybe not in numbers, but in integrity, honesty, and healing. 
[bctt tweet=""The fruit doesn't always look like numbers. The fruit looks like integrity, and honesty, and healing." – Noelle Rhodes" via="no"]
She and Troy started working with another church and those were "the best years of our ministry." During this time, another American missionary couple mentored them. They were also able to get a diagnosis for her son: he was hearing impaired. 
How Noelle Defines Leadership
[bctt tweet=""Leadership is being willing to let others watch your life. A good leader will continually say, 'Look at me not because I have the answer, but because I'm following the answer.'"" via="no"]
Also, remember that you are a sheep. A good leader admits her mistakes and moves forward in grace and forgiveness. 
Dealing with Isolation in Ministry
As leaders, we often erroneously believe that we cannot let people know about our mistakes. We don't want our mistakes to negatively impact the spirituality of our people. We think it's better to hide and deal with it ourselves than to let people in.
But isolation in ministry is not the example Jesus set for us. He didn't do "lonely leadership." Jesus was born into a family, lived in a community, and then invited 12 disciples into His work. 
Sometimes we don't invite people because we don't want to get hurt, but Jesus was extremely vulnerable and invited people, even when He knew they'd hurt Him. 
We worry that if we tell others our struggles, it may impact our husband and kids. You need discernment. Before you share, talk with your family, spouse, and the Lord about whether to share it with your congregation. 
Developing Friendships in Ministry
It's difficult to make relationships with other leaders for two reasons:
We're really busy.

We silently compare and compete with others in ministry.
[bctt tweet=""If you want to find true friendship, you have to be vulnerable, and you have to be consistent."" via="no"]
When Noelle is building friendships, she doesn't look for success in ministry. but someone who looks sane, someone who is real and honest, and who regularly cultivates joy and peace in her life.
[bctt tweet=""Time is the currency of trust."" via="no"]
As a Christian woman leader looking for friends, ask:
Who is sane?

Who can I regularly spend time with?

Who can I trust?
Once you find your people, you'll slowly become more and more vulnerable.
"Friendship is really about consistency."
Communicating About Crisis Situations as Leaders
Sometimes in leadership, we have crisis situations in our lives, like Noelle's struggle with anxiety and depression.
Noelle shares this advice for us when dealing with situations like these:
When a crisis happens and you conceal it, it breeds confusion and people fill in the gaps with their own worst-case scenario. 
When you accurately communicate, it breeds compassion. Your community can't offer compassion unless they know what's going on. 
[bctt tweet=""When you conceal the matter, it breeds confusion… when you communicate appropriately what's going on, it breeds compassion."" via="no"]
It's a scary thought to share private pain to your congregation, but concealing it will delay the healing process. 
The Importance of Friendships as a Leader
Remember that:
it takes vulnerability to reach out,

you're not the only lonely one,

and not every person will be someone you connect with.
[bctt tweet=""If you are lonely, and you need a friend, you're going to need to create space in your life for that."" via="no"]
Your emotional, mental, and spiritual health are all parts of your ministry.  You need relationships to become the best you, and we are meant for community as the body of Christ.
Cultivating deep, meaningful friendships will help you be a good wife, a good mother, and a good leader.
Leaders Are Learners:
Noelle loves podcast and the Enneagram. She has been studying and reading a lot from C.S. Lewis recently. Her recommendation is Readings for Meditation and Reflection.
Connect with Noelle Rhodes:
Website
Instagram
Email
Podcast
Noelle is your friend who encourages lonely, weary, and discouraged Christian leaders. She is the host of Monday School – a podcast devotional and the co-pastor of Hub Lakes Church. She is the wife of her beloved good-looking hillbilly Troy and the honored mother of the two most wildest and most wonderful human beings ever to exist. If you are ever in the North Jersey/NYC area, you are officially invited over to her house for a good cup of coffee and bagel. She means that.
Stay Connected:
Subscribe on your favorite podcast app. Click here to find all the options where you can find the podcast.
Join our Purposeful Leadership Facebook group! In the Facebook group, we can chat about what you need as a leader, what your challenges are, as well as celebrate the wins. This is a great community to learn and grow together. We want to get to know YOU.
[convertkit form=5179709]
Other Ways to Connect with Esther and the Christian Woman Leadership Podcast:
Pin it for later: