What does "leading with confidence" mean, and why is it important? Confidence is foundational to success as a leader, but where does confidence come from as a Christian woman? And how do you develop confidence?
In this episode, we're going to dive into the importance of leading with confidence. You'll find out a bit about how I landed on this phrase, why confidence is important for leadership, and my 3-part definition for the phrase "leading with confidence". In addition, we'll talk about a practical step you can take today to start developing your confidence.
How I Landed on the Phrase:
• Blogging backstory
• Pivot in beginning of 2018 to focus on leadership
• Studying the Psalms & discovering the meaning of the word "trust"
• Seeing and hearing the word "confidence" everywhere
• The meaning of leadership: Episode 2
• The definitions of confidence
I believe God led me to this phrase "leading with confidence", which is ultimately why I chose to use it here on the podcast and for my website.
Why Confidence is Important in Leadership:
• Podcast episode from Craig Groeschel: How to Inspire Your Team
• Inc Magazine Article: Without Confidence, There is No Leadership
• Forbes Article: Why Confidence Is Always A Leader's Best Friend
• Women's Network Article: How Important is Confidence for Leadership Success?
• The Atlantic Article: The Confidence Gap
Having confidence is important for leadership, and we also see that there's a problem: many of us as women struggle with confidence. But before we tackle what to do about it, I want to define what I mean by leading with confidence.
Defining "Leading with Confidence":
My definition of leading with confidence involves 3 core components.
1) Confidence starts with love.
Being able to lead with confidence requires that you first are firmly rooted in the belief that you are fully loved by God. You need to accept the truth that God created you, he sees you, he knows you, and he loves you.
Psalm 139 tells us that we are fearfully and wonderfully made, and that God knows everything about us. And Ephesians 3:17-19 talks about us being rooted in love AND Paul is praying that we would have the ability to grasp the width and length and height and depth of Christ's love for us.
"Courage comes from a heart that knows it is loved." – Beth Moore
Courage and confidence are connected to love. When you know and are firmly rooted in God's love, then you don't have to rely on your own abilities.
[bctt tweet="Confidence starts with knowing you are loved and resting fully in that love." username="_estherdawn"]
2) Leading with confidence involves living with purpose.
You accept the fact that God has designed you on purpose, and then you live with purpose.
Living life on purpose includes intentionally seeking to understand how you are wired and gifted, so that you can make the biggest impact around you. You embrace the way God designed you instead of fighting against it.
This is not about confidence in your own abilities, but it does mean embracing the gifts God has given you instead of trying to hide or deny them.  (2 Cor. 3:4-5)
You aren't doing anyone any favors by denying how God has designed you or pretending like you don't have gifts. We discussed this in Episode 3 with Abby Rike Rockenbaugh.
Once you accept and embrace the way God has made you, then you can more effectively live with intention and impact the people around you.
3) Leading with confidence means that you accept the leadership of Christ in your life.
You then step out to lead others out of a place of love and purpose. And ultimately, it means trusting GOD as your source of confidence rather than yourself.
When you are following God's leading in your life, you're not relying on your own strength to accomplish the tasks ahead of you. Instead, you are putting your full TRUST, or CONFIDENCE, in God.
You know you are fully loved and therefore are able to love others. You know God designed you with a purpose, and therefore you can live life on purpose. And you know you are under the leadership of the Holy Spirit, and therefore you are able to lead with confidence.
In all of these 3 areas, there's a tension here between surrender and action; between submission and stepping out.
Leading with confidence looks like this:
Accepting the love God has for you and then pouring that love into others;
Accepting that God made you on purpose, so you should live your life with purpose;
Accepting the leadership of Christ and then leading others that God has placed in your sphere of influence.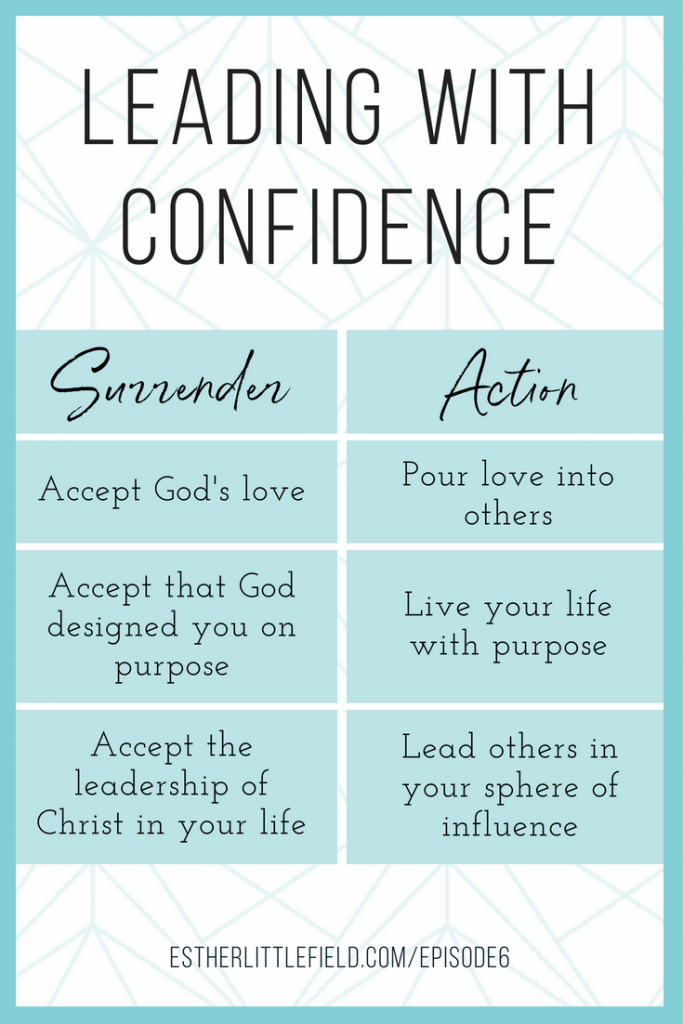 How to develop confidence in your leadership:
What do you do if you don't feel confident as a leader? The truth is, there is always room to grow when it comes to confidence
I want to share with you just ONE practical tip today to help you begin to develop confidence. That tip is this: speak life.
Why?
• Our minds play tricks on us
• Our enemy wants us to believe lies about God and about ourselves
So what I want you to do is to speak life over yourself. One way to do this is to use affirmations based on scripture, as well as positive statements that move you in the direction you want to go.
So I want us to use words of life and encouragement, so that we can embrace the truth and begin to develop the beliefs that are necessary to developing confidence.
To help you with this, Holly & I have developed a Confident Leader Manifesto for you to use. I'm going to share it here, but we are also making it available for you to download and print or keep a copy for yourself!
Confident Leader Manifesto:
I am a confident leader. I am fearfully and wonderfully made in God's image, and I am loved fully by God.

I am a motivated world-changer. I embrace the gifts God has given me so that I can make an impact and positively influence those around me. I don't complain about my circumstances, but instead, I take determined action.

I am strong, but sensitive to God's guidance, willing to submit my hopes and dreams to His purpose.

I intentionally pursue healthy relationships. I humbly lead those whom God has placed in my sphere of influence. I love fiercely, live purposefully, and lead with confidence.
There is power when you speak life over yourself. When you say positive words about yourself, and you remind yourself of the truth of God's love for you, it changes the way you think.
My challenge today for you is to grab this manifesto for yourself and begin speaking it over yourself each day. If you want to change up the wording to be what you need, go for it! This is a starting point, and you may find that something different works better for you.
Grab your copy of the manifesto today (you'll also get an invite to our Facebook Group):
[convertkit form=5252442]
Be sure to subscribe so that you hear our future episodes with other women in leadership. They will be sharing about their leadership journeys and how they are leading with confidence.
Other Episodes Mentioned:
Connect with Esther: