Have you ever felt forsaken or forgotten by God? What do you do when tragedy hits, and your life is changed forever?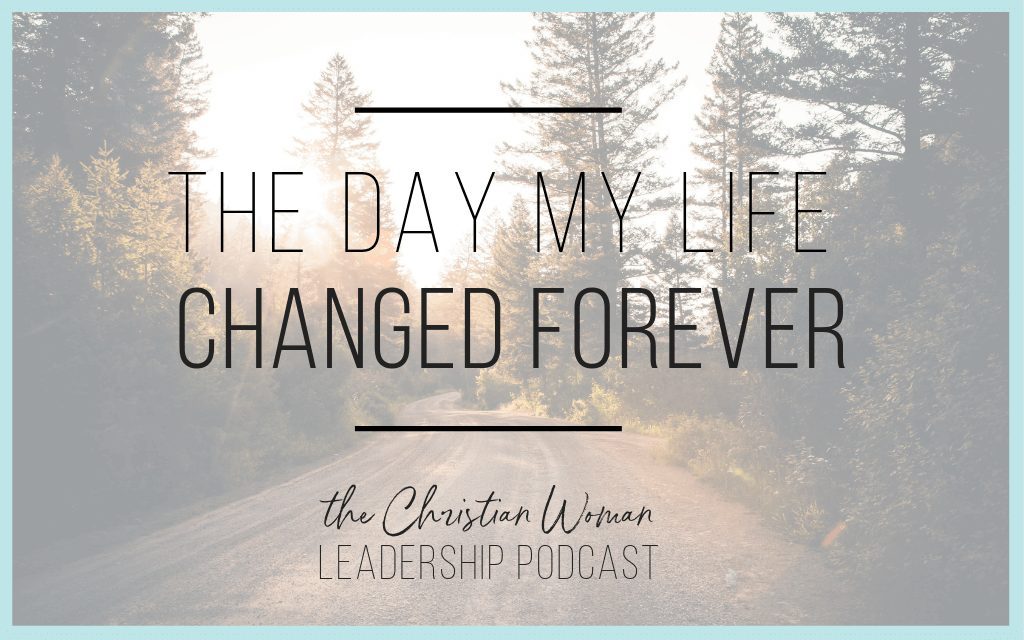 In this episode, I am sharing the story of the day my life changed forever. Today marks 25 years since that tragedy, and even though I've previously shard the story on my blog, I wanted to share it with you here on the podcast.
While this is not a typical episode related to leadership as a Christian woman, my prayer is that my story is an encouragement to you or someone you know. And looking back, this experience played a huge role in shaping my faith, my life, and my leadership.
If you wish to read this story rather than listen, you can do so here:
But if you listen to this episode, you'll hear an expanded version of the, as well as some of my thoughts on dealing with the question of why.
Scriptures referenced:
John 9:1-3:
"As he went along, he saw a blind man from birth. His disciples asked him, 'Rabbi, who sinned, this man or his parents, that he was born blind?' 'Neither this man nor his parents sinned', said Jesus, 'but this happened so that the work of God might be displayed in his life.'"
Psalm 22:1-5
"My God, my God, why have you forsaken me? Why are you so far from saving me, from the words of my groaning? Yet you are holy, enthroned in the praises of Israel. In you our fathers trusted, they trusted, and you delivered them. To you they cried and were rescued, in you they trusted and were not put to shame."
Matthew 27:46
"And about the ninth hour Jesus cried out with a loud voice, saying, 'Eli, Eli, lema sabachthani?' that is, 'My God, my God, why have you forsaken me?'"
Luke 23:46
"Jesus called out with a loud voice, 'Father, into your hands I commit my spirit.' When he had said this, he breathed his last."
Key Quotes:
"We all have a story; our stories are just different. It doesn't mean that one person's pain is more valid than another's."
"It's perfectly okay to ask God WHY in the face of tragedy."
"If we could get all the answers to our questions, we wouldn't need faith."
Even when you feel forsaken, God has not forgotten you. And He is still faithful.
Click To Tweet
Stay Connected:
If my story has impacted you in some way, and you know someone else who might need to hear it, I would love if you would share it with a friend. Just shoot them a text, an email, or a message and give them the link to this episode.
And if you yourself are going through a hard time, feel free to DM me on Instagram, post in our private Facebook Group, or send me an email [podcast @ estherlittlefield.com] and let me know how we can be praying for you.
Join our Purposeful Leadership Facebook group! In the Facebook group, we can chat about what you need as a leader, what your challenges are, as well as celebrate the wins. This is a great community to learn and grow together. We want to get to know YOU.
[convertkit form=5179709]
Other Ways to Connect with Esther and the Christian Woman Leadership Podcast:
Episode Sponsor:
Audible
Today's show is brought to you by Audible. Audible is offering our listeners a free audiobook with a 30-day trial membership. Just go to estherlittlefield.com/audible and browse the unmatched selection of audio programs – download a title free and start listening.
How your free trial works:
Choose a free audiobook and set up a trial 30 day membership!

After 30 days, get one audiobook a month for $14.95/month

Receive 30% off the price of additional audiobook purchases

Cancel at any time. The books are yours to keep, even if you cancel
Go to estherlittlefield.com/audible to start your free trial.
Pin it for later: