What exactly is balance, and is it possible for us to achieve as women leaders? How do we practically manage all the roles and responsibilities we carry in our lives? And how can we do so without becoming completely stressed and overwhelmed?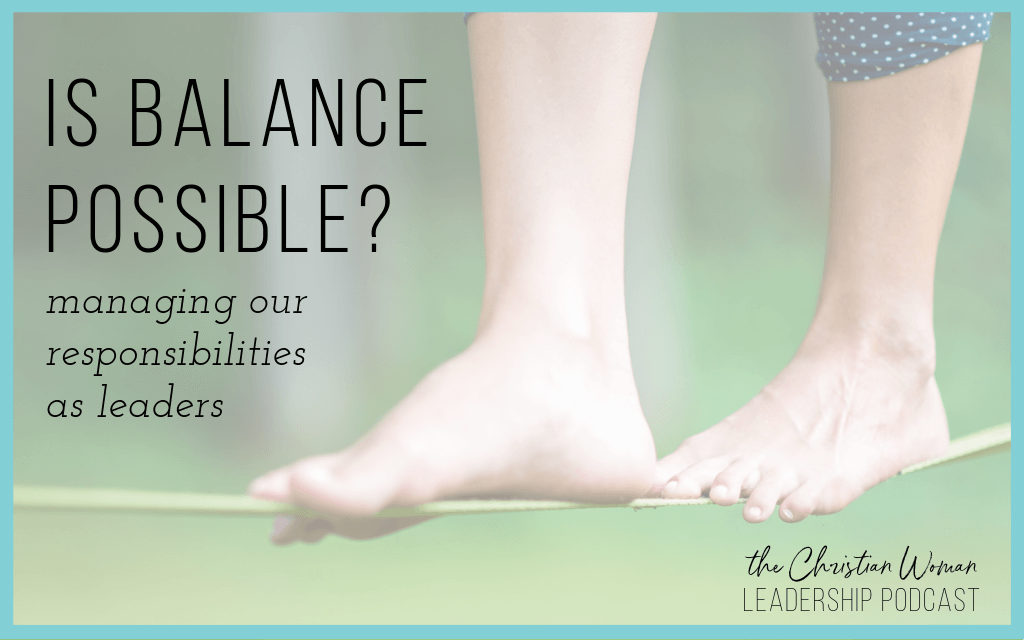 This post contains affiliate links, which means if you choose to make a purchase via one of the links, we will receive a commission at no extra cost to you. This helps to support the costs of running the podcast and blog.
In this episode, Holly and I discuss the issue of balance, and whether it's possible to achieve balance in our lives. We share why we often feel the pressure to have it all together, what balance actually means, and we give our perspectives on whether or not it is possible to live a balanced life.
Reality of Our Lives As Women:
As women leaders, there are a lot of responsibilities we are dealing with. Some of them include:
Marriage

Parenting

Career

Business

Friendships

Church

Mental and physical health challenges

Physical fitness and appearance

Being a good citizen

Volunteering
We have a lot to manage and juggle. We often feel like we can't stop or slow down, because if we do, we might drop one of the balls we're juggling, and it might be something really important.
It's no wonder many of us feel stressed.
And it's no wonder we are trying to alleviate some of this by seeking the ever elusive "balance" or the idea of "having it all."
All About Balance:
We discuss the dictionary definition of balance as stated below:
Noun: "an even distribution of weight enabling someone or something to remain upright and steady." // "a condition in which different elements are equal or in the correct proportions."
Verb: "keep or put (something) in a steady position so that it does not fall."  // "offset or compare the value of (one thing) with another."
Holly and I both share what we think of when we hear the the word balance.
Why we hear so much about balance and having it all, and why we try to achieve it:
Culture

Our own ideals and ambitions

Wanting to be a good _______ (wife, mom, leader, etc)

Outside pressure

Guilt over pursuing something other than what we feel is expected of us

Lie from the devil to get us to pay attention to our circumstance rather than surrendering to God
Is balance possible?
Holly shares her view about balance. She believes it is not possible, and that it is a myth that you can achieve a balanced life.
I share my perspective on balance and how my view has evolved on time. I believe balance is not possible in the sense of having all areas of your life evenly distributed or to give equal time and energy to all of your responsibilities.
What I want to shoot for, whether we call it balance or not, is to be clear on what is most important in my life and in the particular season or moment and to spend my time on those things.
Holly shares that she prefers to use the perspective of priorities rather than balance.
Having a clear set of priorities helps me make better, more freeing decisions because I'm committed to keeping those things in order.
Click To Tweet
We also discuss a few other ways to look at balance. I share the words harmony and alignment as alternatives to the word balance.
In an orchestra, certain sections play louder or quieter at various times of the concert. This means that one portion takes priority over others at different times, but it produces a beautiful result.
There are seasons of our life where one particular activity takes precedence over others.
All God wants is a heart surrendered to him moment by moment.
Click To Tweet
We don't have to do everything right now. There might be times when we have to choose certain priorities over others, even when they are all good things and dreams that God has given us.
Listen to the Devoted Dreamers Podcast Episode 106 for more on this idea.
If we can live in surrender to God moment by moment, and be content with where God has us, as well as spend time on the things that matter most to us, we will likely be less stressed and overwhelmed.
In the next episode, we will discuss practical ways to be less stressed and overwhelmed.
Stay Connected:
Subscribe on your favorite podcast app. Click here to find all the options where you can find the podcast.
Join our Purposeful Leadership Facebook group! In the Facebook group, we can chat about what you need as a leader, what your challenges are, as well as celebrate the wins. This is a great community to learn and grow together. We want to get to know YOU.
[convertkit form=5179709]
Other Ways to Connect with Esther & Holly and the Christian Woman Leadership Podcast:
Episode Sponsor: Confident Leader Club
Today's show is brought to you by the Confident Leader Club. If you're a Christian woman leading in ministry or business, and you have a desire for deeper community with other leaders, accountability towards reaching your goals, access to ALL the downloads I've created, monthly bonus content including workshops and trainings on specific topics, and much more, I want to invite you to check it out. Visit confidentleaderclub.com to learn more.