Have you ever wondered why you set goals differently from others around you? Why is it that some leaders naturally set specific and measurable goals while others seem more relaxed or don't set goals at all? How you set goals and how you feel about them is intricately woven into how God wired you.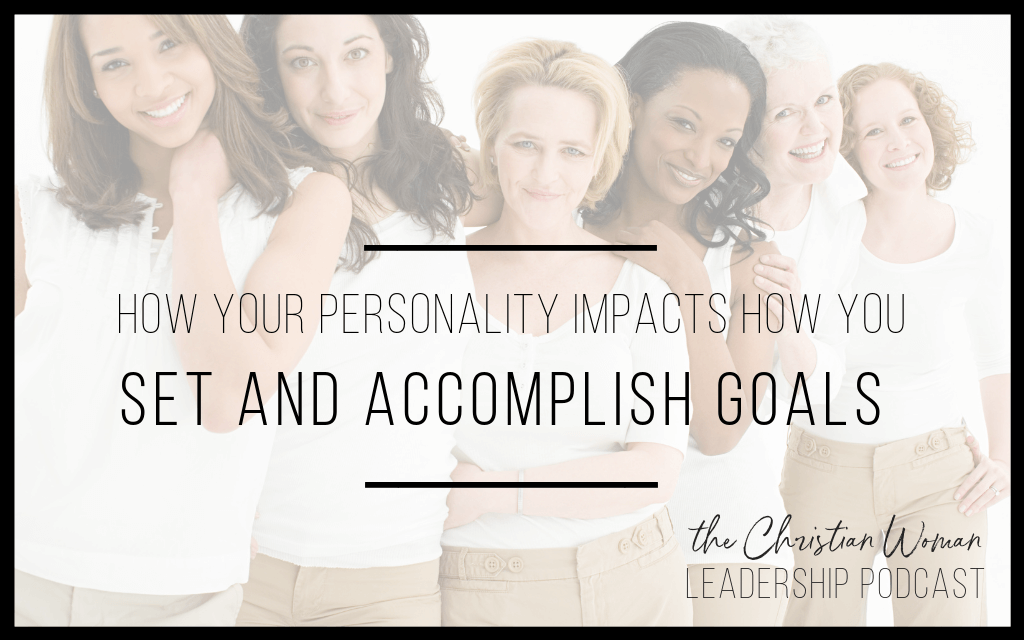 This post contains affiliate links, which means if you choose to make a purchase via one of the links, we will receive a commission at no extra cost to you. This helps to support the costs of running the podcast and blog.
In this next episode of our Goal Setting Series, I talk with writer, speaker, and Enneagram-lover Jill McCormick about why it's important to understand how your wiring and personality impact everything goal-related. Without a clear understanding of how you are made, you may fall into comparison or beating yourself up because you don't set goals just like everyone else.
This episode is all about accepting how you were created so that you can have a year of impact.
Discover your goal setting style:
While Jill and I talk specifically through the lens of the Enneagram, there are other personality frameworks that will also help you understand your relationship to goal setting and achievement.
Myers-Briggs
The Four Tendencies
How Each Enneagram Type Views Goals
This episode is not an overview of the Enneagram, so if you are not familiar with it, you'll want to listen to Episode 17 with Beth McCord first. You can also read Jill's post about this topic including more healthy habits by clicking here.
Type 1 – The Perfectionist or Reformer

– loves goal setting and has about 1,000 ideas that are all lofty and large. They work exhaustively toward their goals, which may leave them burned out. They also may procrastinate moving toward their goals because they aren't sure how to achieve them "perfectly." A healthy habit for goal-setting would be to understand that you WILL feel awkward the first time you do something and that's totally okay and 100% normal.
Type 2 – The Helper

– is indifferent about goals. If they do set goals, they will quickly drop their personal goals to help others. A healthy habit for goal-setting would be to set goals and add "white space" into your timeline to allow time for you to care for the people you love.
Type 3 – The Performer or Achiever

– both love and hate goals. If a Type 3 says they'll meet a goal, they will do it to the exhaustion of themselves and those around them. They may also view people as an obstacle or interruption to meeting a set goal. A healthy habit for goal-setting would be to ask why you set a particular goal so you can find out if it's something you feel like you "should" do or because it has personal significance to you.
Type 4 – The Individualist

– sets goals less as concrete action steps and more as general, romantic notions of how life "should" be. They can easily become sidetracked by their emotions and allowing how they feel to dictate what they do. A healthy habit for goal-setting would be to break your goals down into small chunks and to have a friend serve as an accountability partner.
Type 5 – The Investigator

– has an extremely healthy view of goal-setting because they set clear and measurable goals. However, Type 5s run the risk of over-analyzing goals to the point that they never make any progress. A healthy habit for goal-setting would be to give yourself an end date for research so you can move forward on reaching your goal.
Type 6 – The Loyalist

– needs goals to keep moving forward, but can also overthink them. They can work like a Type 3 in getting things done, pushing themselves to exhaustion. A healthy habit for goal-setting would be to break down your big goal into smaller chunks to avoid overwhelm.
Type 7 – The Enthusiast

– are less likely to set goals and more likely to set intentions or a word-of-the-year. This Type is extremely grounded in their values and know what direction they want to go. However, if they do set goals, they run the risk of feeling hurried, hassled, and caged in. A healthy habit for goal-setting would be to remember that it's okay to experience pain — to not be so busy that you don't allow Christ to comfort you.
Type 8 – The Challenger

– like goals and focus more on the end-result than the details. They give 100% effort and accomplish goals quickly, but may adopt goals that aren't personally significant to them. A healthy habit for goal-setting would be to ask why you're setting the goals you chose and to ensure that they line up with what Christ has in mind for you.
Type 9 – The Peacemaker

– has a very hard time setting their own goals because they are so concerned and involved with helping others meet their goals. They can be the most self-forgetful of all the types. A healthy habit for goal-setting would be to spend time with Christ asking God what He has in mind for you.
If you'd like to go more in-depth with what Jill and I talk about here, visit her blog post that gives more healthy habits.
Remember that no matter what goals you set or whether you accomplish them or not, God is still just crazy about you.  
If you're ready to take action, join me for a free workshop:
3 Strategies to Accomplish Your Goals and Create a Purposeful Year… without feeling overwhelmed, distracted, or having an overloaded schedule
Other Episodes Mentioned:
Connect with Jill McCormick:
• Website
• Facebook
• Instagram
Jill McCormick is the writer behind jillemccormick.com, a blog where she shares common-sense grace with the try-hard girl.

Jill's married to her high school sweetheart Ryan. They live in South Texas with their two daughters, born 18 months apart. Most days you'll find her with a book in her hand or a podcast in her ears. She starts and ends everyday with sprinkles: on oatmeal for breakfast and on ice cream for dessert.
Stay Connected:
Subscribe on your favorite podcast app. Click here to find all the options where you can find the podcast.
Join our Purposeful Leadership Facebook group! In the Facebook group, we can chat about what you need as a leader, what your challenges are, as well as celebrate the wins. This is a great community to learn and grow together. We want to get to know YOU.
[convertkit form=5179709]
Other Ways to Connect with Esther and the Christian Woman Leadership Podcast:
Pin it for later: