Mentoring has to be formal and structured right? Shouldn't mentoring include lots of time and coffee dates? Not necessarily. You may be surprised what our guest today says about what mentoring can look like and the ridiculously easy ways you can fit mentoring into your right-now life.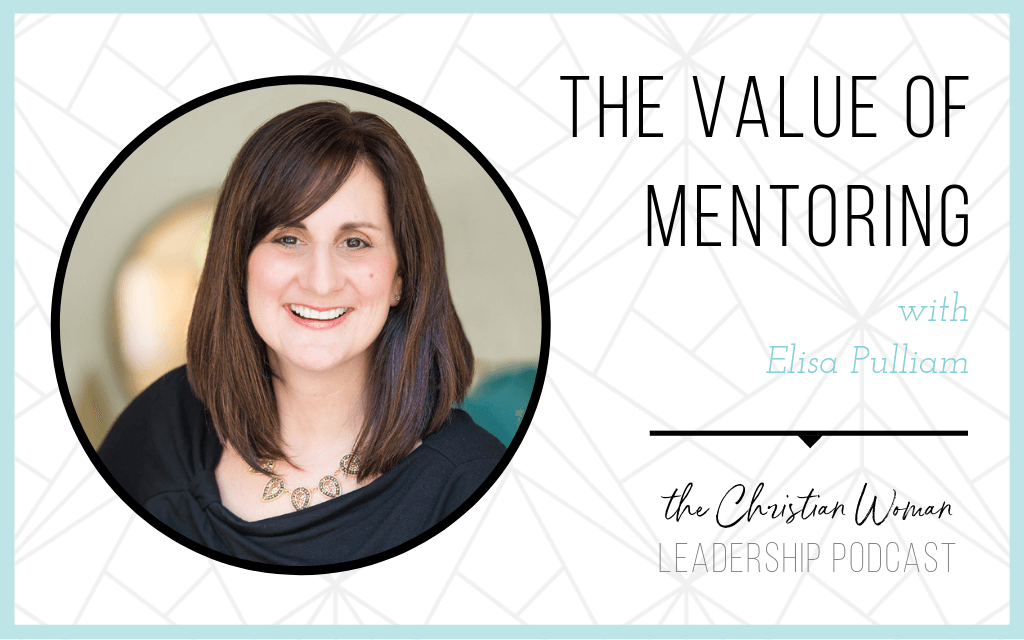 This post contains affiliate links, which means if you choose to make a purchase via one of the links, we will receive a commission at no extra cost to you. This helps to support the costs of running the podcast and blog.
In this episode of the Healthy Relationships series, I chat with Elisa Pulliam, founder of More to Be, all about the value of mentoring.  Elisa is a wife, mom of four teenagers, and leader of her own business.
Elisa will share her insights about mentoring: how to find a mentor, how to be a mentor, how to navigate generational differences, and how to experience mentorship when you lead a busy life.
Elisa's Leadership Journey:
God has been transforming Elisa since 1993, the year she became a Christian. She's experienced a life of growth and transformation as she worked in a Christian boarding school for 18 years, started her own business, raised four children, and married her husband Stephen  22 years ago.
Her biggest struggle is with anger. Ten years ago she went through a healing journey that led her through the bitterness and unforgiveness that come from growing up an abusive home.
Over the last decade, Elisa's launched a website and two books, which document how God can walk us through how to spiritually grow out of poor habits and unhealthy thinking. She's also a certified life coach.
Developing a Healthy Relationship with God and Understanding Herself:
For Elisa, it's taken 25 years to understand that she is sincerely chosen, and wholly and dearly loved in God's sight. She knows that healthy relationships start with our relationship with God and our recognition with how much He loves us.
She knows that we all ache for an answer to this question: "Am I good enough?"
"The greatest things that God wants to accomplish through us usually are directly tied to our greatest weaknesses." - Elisa PulliamClick To Tweet
Elisa recommends the Highlands Assessment, which is a three-hour online test that isn't subjective, but actually measures how you interact with information. Your final report will share results on your personality style, your driving abilities, how you interact with information, and special abilities, i.e. your creative bent. This is a great test for high schoolers and college students because it matches people with their optimal work-type, including certain fields.
The Value of Mentoring:
Elisa shares how God changed her perspective about mentoring when she started searching and seeking to understand Biblical mentoring. She realized that:
"We are surrounded by mentors but we lack the vision to see it because we're looking for a title. If we could approach every interaction with every woman that's older than us and every woman that's younger than us with the mindset of a baton pass, where 'what can we receive and then what can we give' from a Biblical perspective; that is mentoring and that's Biblical community."
In Titus 2, the word "parakaleo," is used, which means we are to "call to one's side; to address, epak or call upon; exhort; encourage; comfort; instruct; admonish; beg; appease; console; strengthen; teach."
If this type of parakaleo is to exist, we must spend time together. Elisa exhorts us to be the person who invites another to come alongside us and to be willing to receive what they offer.
"We need to adjust our expectations and be willing to be present in the moment."
Generational differences & mentoring:
The differences between generations presents a challenge for us as we seek out mentors or as we attempt to mentor others.
Elisa shares about 3 segments of the population (Baby Boomers, Gen X-ers, and Millennials)  and the impact this has on mentoring.
The Baby Boomers and Millennials are the two largest generations with the Gen X-ers as the smallest of the three. However, Gen-X are the ones with the most debt, and the group responsible for the most people, including aging parents and their own children.
Baby Boomers are becoming more technologically savvy as a way to stay in touch with their grandchildren. Of the three generations, the Gen X-ers have the most self-control when it comes to technology.
Elisa has done a lot of research on the impact of technology, and she shares about it in this blog post: Social and Screens: Are we really addicted?.
For those who are seeking to mentor (or be mentored by) someone of a different generation, Elisa recommends a few keys:
"Invite people to start speaking their story rather than you making a judgement based on what you think is their story.Click To Tweet
The Importance of Community:
Elisa reminds us that community is important because it helps us fulfill the Great Commission – to tell the next generation about God, not just from the pulpit but within the context of relationships. The people of God are to carry out the love of God.
Tips for Mentoring Relationships:
Look at the place where God has already called you.

Ask God to make you sensitive to who you can mentor and who can mentor you.

Lead with questions

Ask for permission to share a story

Ask if they would like to hear your input or advice

Share a struggle.

Ask older women for advice.
Mentoring needs to be done within the context of an ongoing relationship. Elisa shares some creative ways to include mentoring opportunities in your regular schedule, even when you're very busy.
How Elisa Balances Her Family and Her Work:
Elisa points out that balancing work and family life is hard, and there's an ongoing tension. Here are some best practices she recommends:
Talk a lot with those in your family so you can check in on how their hearts are doing.

Ask your spouse if you're taking on too much, and if what you're doing is negatively impacting your children.

Ask three to four God-centered women if they honestly believe that a request for your time is too much.

Listen to what those who love you have to say.

Be aware of what your family needs in each season and adjust to their needs.

Involve your children in your work/ministry if that allows them to use their gifts and gets them excited.
Leaders Are Learners:
Conclusion:
Mentoring can be as easy as coming to Bible study early to talk with a friend or asking your babysitter how she's doing. No matter how you choose or who you choose to mentor, God is in it. God values relationships and connections.
Other Episodes or Books Mentioned:
Connect with Elisa:
Elisa Pulliam is a coach, speaker, author, podcaster, and creative strategist. She is the founder of MoretoBe.com, a ministry devoted to helping women embrace a fresh encounter with God and His Word, so that they can experience authentic life transformation and legacy impact.

At More to Be, Elisa provides coaching, coach training, mentor training, online courses, downloadable resources and books. Her latest book, Unblinded Faith, released in May 2018 from Harvest House.
*Affiliate links.
Get my free resource: 23 Practical Ways to Set Boundaries
[convertkit form=5209638]