Have you ever experienced church hurt? Have you had moments that made you question whether you'd ever step foot into church again? Or have you ever walked through unexplainable loss that made you wonder if God is truly there or cares about you?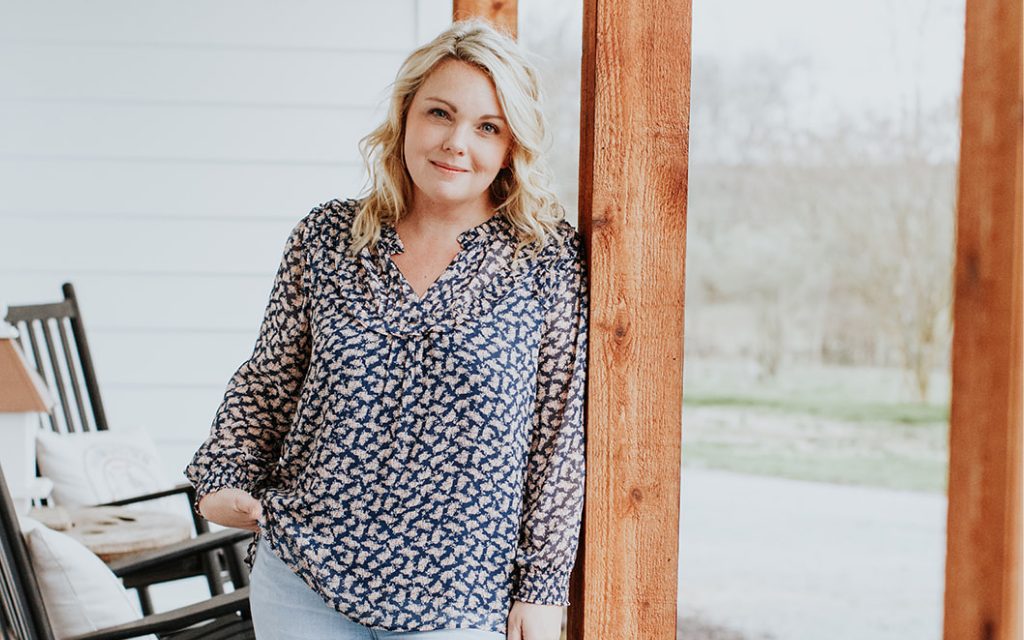 This post contains affiliate links, which means if you choose to make a purchase via one of the links, we will receive a commission at no extra cost to you. This helps to support the costs of running the podcast and blog.
In today's conversation, Holly and I talk with Nicki Koziarz to hear about her leadership journey and her story. You'll hear Nicki's take on what it means to be a leader, what the worst form of leadership looks like, and how a deep church hurt led her into an unexpected journey of leading other women.
You'll also hear how Nicki's life has been impacted by mental illness and how Nicki has seen God's faithfulness through devastating losses. Finally we dive into how leaders can respond to others when they are experiencing doubt or loss.
I know you're going to be blessed by this conversation with Nicki, and I truly believe it will be an encouragement to you.
Key Points Discussed with Nicki Koziarz:
Nicki's life and leadership journey [5:15]

Leadership lessons [11:15]

How mentors have impacted Nicki [15:35]

How Nicki has developed her message [19:00]

Leading through brokenness [23:00]

How Nicki has walked through difficult seasons of loss [25:49]

Navigating doubt [33:00]

The 5 decisions to make when life is hard and doubt is rising [38:00]

Responding to doubt especially after church hurt [43:26]

Habits and routines that help Nicki stay healthy [49:33]

Nicki's advice to younger leaders [53:50]

Leaders are Learners [55:30]
Quotes:
"Leadership has a high calling and a high standard."

"Leaders have to know how to listen to God."

"The worst form of leadership i​​s when it becomes about us and our agenda."

"Always ask over assume."

"The Lord was very kind to me during that season."

"​​There's a difference between speaking in the midst of brokenness and speaking on the other side of brokenness."

"​​It's got to be a motivation question like: why are we sharing what we're sharing? What's the reason? What's the purpose behind this?"

"You're in charge of the plan, but I'm in control of my obedience."

"Obedience is ultimately a decision."

"How can I build a better system so that people can trust me as a leader?"

"We have got to stop we need to stop trying to make sense of God."

"The way God uses me to speak to 1000 women is the same way God uses me to sit at my table with my family. And we can't get those out of balance, because it gets really messy in our souls."

"Always remember that everyone has something to teach you. And sometimes that person teaches you who you never want to become as a leader."

"I kind of live my life in that posture of 'everyone has something to teach me'." 

"How do we grow and actually learn how to communicate what we believe if we don't ever hear anything different?" – Esther Littlefield
Links & Resources Mentioned:
Proverbs 31
John Maxwell YouTube
Dr. Tony Evans Study Bible
Evan Carmichael YouTube Channel
Flooded by Nicki Koziarz
Podcast Sponsor:
Podcast in a Weekend Mini-Course
Are you ready to share your message with the world? A podcast is an incredible way to do so. But how do you actually create and launch a podcast that people will listen to? Podcast in a Weekend is a mini-course that will provide you with the strategy and shortcuts you need to get your podcast launched… without taking weeks or months to get through the content.
Learn more and grab the mini-course today so you can get started on sharing your message through a podcast.
Connect With Nicki:
Nicki Koziarz is a three-time best-selling author and Bible study teacher with Proverbs 31

Ministries. She is a wife, mom, writing coach and first generation farmer. Her and her family live

just outside of Charlotte, NC on a small farm they affectionately have named, The Fixer Upper

Farm. Nicki is passionate about helping women connect with God's Word in powerful and

practical ways.
Stay Connected:
Subscribe on your favorite podcast app. Click here to find all the options where you can find the podcast.
Join our Purposeful Leadership Facebook group! In the Facebook group, we can chat about what you need as a leader, what your challenges are, as well as celebrate the wins. This is a great community to learn and grow together. We want to get to know YOU.
[convertkit form=5179709]
Other Ways to Connect with Esther and the Christian Woman Leadership Podcast: