Have you ever felt like it's impossible to slow down as a leader? Do you feel constantly pulled in a thousand directions because of everyone who needs you?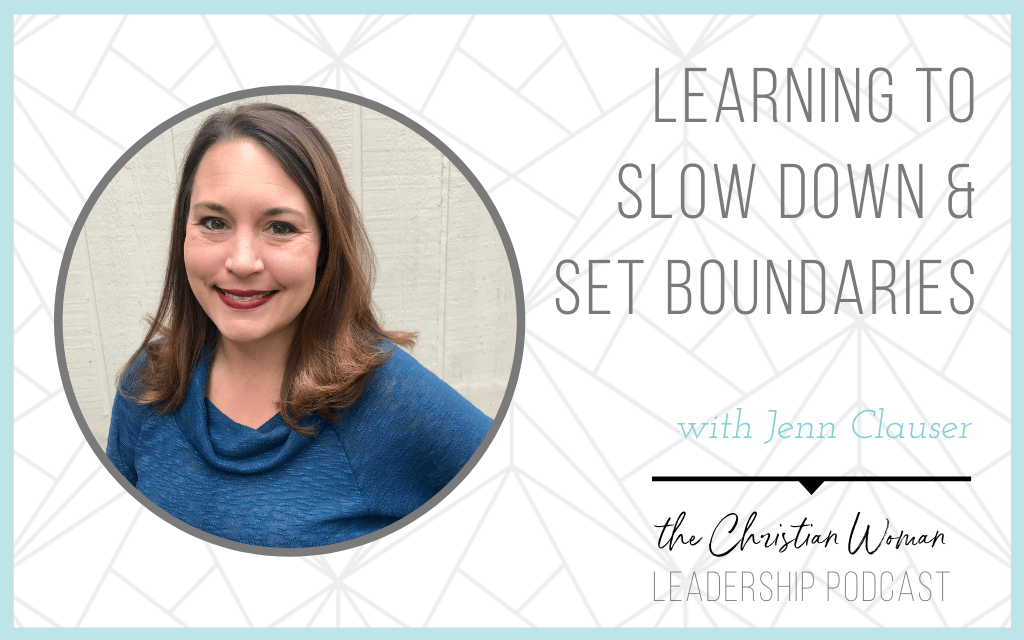 This post contains affiliate links, which means if you choose to make a purchase via one of the links, we will receive a commission at no extra cost to you. This helps to support the costs of running the podcast and blog.
In this episode, Holly and I talk with our guest Jenn Clauser as she shares her journey of learning the importance of slowing down and finding true rest. 
As the director of communications for her church, she experienced a big shift when COVID hit in March 2020. This shift forced her to come face to face with the pace of her life and the need for intentionally setting boundaries and establishing healthy rhythms of rest. 
Whether you are a leader in ministry or in the marketplace, or you just want to figure out how to stay connected to Jesus when it seems people need you all the time, you're sure to find practical wisdom and insights in this conversation.
Key Points Discussed:
Key Quotes from the Episode:
"To be intentional with God, intentional with rest, and then to be intentional in community with others."
"If we step into a place that we are not called to go then we are robbing somebody else of their blessing."
"Setting the boundaries up front can help prevent meltdowns."
"If I'm constantly taking on what others believe that I should do for them because I'm a 'good Christian'…for approval, then my time and resources aren't being used where God's calling them to be."
Connect with Jenn Clauser:
Jenn Clauser is a storyteller with a calling on her life from Jeremiah 1:7, where God said "go to everyone I send you to and say whatever I command you." Jenn jokes that it is super unclear, but that's the excitement about a surrendered life to God, that He always keeps things interesting.

Jenn is married to James and they have two daughters, and in this past year, Jenn jokes about living life on the Ark. Noah and his wife, journeyed on that ark for 364 days and the life navigating COVID has felt similar to that long boat ride. During the COVID journey God has been speaking to Jenn about the value of being intentional. Being intentional with God, being intentional in community, and being intentional in rest. She's excited to share some of what she's learned and some of the mistakes she's made along the way. 
Resources & Links Mentioned:
Stay Connected:
Subscribe on your favorite podcast app. Click here to find all the options where you can find the podcast.
Join our Purposeful Leadership Facebook group! In the Facebook group, we can chat about what you need as a leader, what your challenges are, as well as celebrate the wins. This is a great community to learn and grow together. We want to get to know YOU.
[convertkit form=5179709]
Other Ways to Connect with Esther and the Christian Woman Leadership Podcast: