What are some of the best and most unexpected lessons to come out of 2 years of the Christian Woman Leadership Podcast?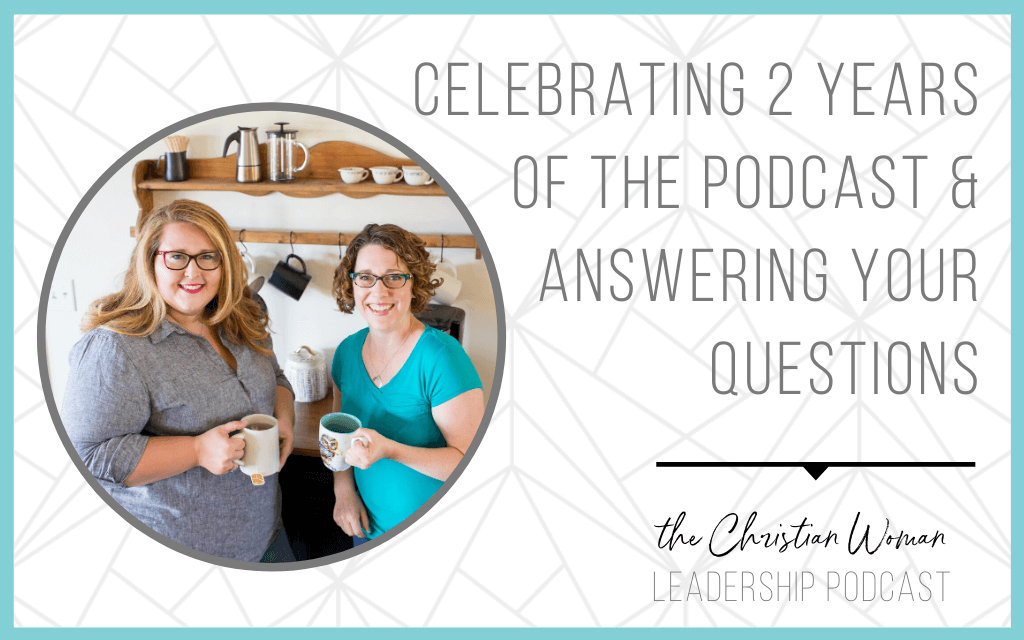 This post contains affiliate links, which means if you choose to make a purchase via one of the links, we will receive a commission at no extra cost to you. This helps to support the costs of running the podcast and blog.
In this episode, Holly and I are celebrating our two year anniversary by answering some of your questions about the podcast. We'll share what we've learned, favorite guests, best things to come as a result, and much more. Plus, we share some of our reflections and let you know the top 5 episodes since we started!
Key Points Discussed:
Invitation to join our group [1:50]

Bonus podcast for our supporters [4:00]

Answering your questions [7:11]

What has been the best thing that has happened for you during this 2 year journey?

What are your family traditions or routines?

Do you have any regrets from this journey? Or otherwise ways you would have done things differently had you the opportunity to do it again?

What unexpected lessons have you learned (good or bad) from starting a podcast? And what's kept you going for 2 years without getting burned out?

Which guest(s) moved you, surprised you, made you laugh, changed your thoughts on a topic, challenged you, etc.?

Our Top 5 Episodes in 2 years of the podcast [32:00]

Our total downloads for the podcast [36:20]

Other reflection questions [37:21]

What is a topic we haven't covered that you'd like to cover this year?

What has been something that has stuck with you that a listener has said to you?

Holly & Esther's updates [48:00]

A recent listener review [52:30]

Fun question of the week: What other podcasts do you listen to? [54:30]
Other links mentioned:
Support the podcast
Our Merch Store
Click here to go to the store and find merch you'll love!
If you grab one of the items and share a photo on social media, use the hashtag #leadwithconfidence and/or tag us so we can see it!
Tag @estherdlittlefield on Instagram
Tag @estherlittlefield on Facebook
Become a Podcast Partner & Receive Bonus Content
We have a fun way for you to partner with the podcast and get access to exclusive content. Every month, we add at least 1 bonus clip from an interview or from Holly and I to a special podcast for our partners. You can become a podcast partner for as little as $5/month by clicking here.
Stay Connected:
Subscribe on your favorite podcast app. Click here to find all the options where you can find the podcast.
Join our Purposeful Leadership Facebook group! In the Facebook group, we can chat about what you need as a leader, what your challenges are, as well as celebrate the wins. This is a great community to learn and grow together. We want to get to know YOU.
[convertkit form=5179709]
Other Ways to Connect with Esther and the Christian Woman Leadership Podcast: