What does the Bible say about money? And how can we operate our businesses (and our lives) in a way that aligns with this truth? Today, we're going to look at developing a Biblical money mindset as Christian women entrepreneurs.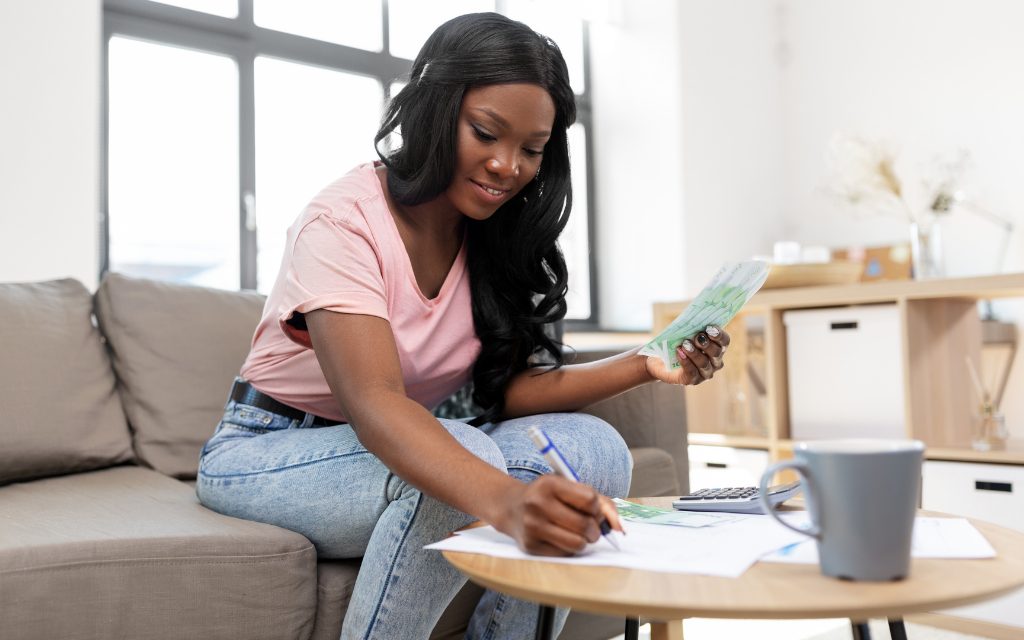 Subscribe to the podcast on your favorite app
Apple Podcasts | Spotify | Stitcher | Google Podcasts
What the world teaches doesn't always line up with our Christian values. Sometimes even 'Christian' coaches talk about money and misuse Scripture or pull things out of context. Some of what the world teaches as it relates to a money mindset has elements of truth and some of what Christian leaders and coaches teach do line up with truth. It is so important to practice discernment as it relates to these issues.
I'm going to share my thoughts and a few of my own money experiences, but as with everything, I want you to study for yourself and use discernment when it comes to this issue of developing a Biblical money mindset.
Grab my free Ideal Life & Biz Guide
How to Develop a Biblical Money Mindset as a Christian Entrepreneur
1. Study what scripture says about money
In episode 158 of the Christian Woman Leadership Podcast, I talked with Katie Jones about cultivating a Biblical view of money.
Katie pointed out that there are over 2,000 verses about money in the bible. So we know that God has a lot to say about money.
It's important that we don't cherry-pick verses that fit what we are trying to say about money. We must look at scripture as a whole and consider verses in the context in which they were written.
Here are a few principles that I have been able to glean as I've learned more about what God has to say regarding money over the years:
Money in and of itself is not evil or good. It can be used for good or evil, and it can be earned or gained in just or unjust ways.
Money is a problem when it becomes an idol, when we love money, or when we become greedy to gain money.

Rich Young Ruler – Mark 10:17-22 – The rich young ruler went away sad because he owned a lot (he didn't want to give up his wealth).

Hebrews 13:5 – "Keep your life free from love of money, and be content with what you have, for he has said, "I will never leave you nor forsake you." (ESV)

1 Timothy 6:8-10 – "But if we have food and clothing, with these we will be content. But those who desire to be rich fall into temptation, into a snare, into many senseless and harmful desires that plunge people into ruin and destruction. For the love of money is a root of all kinds of evils. It is through this craving that some have wandered away from the faith and pierced themselves with many pangs." (ESV)
Contentment with what we have is key.

2 of the verses above mention being content. (Hebrews 13:5, 1 Timothy 6:8-10)

The often misused Phil. 4:11-13- "Not that I am speaking of being in need, for I have learned

in whatever situation I am to be content

. I know how to be brought low, and I know how to abound. In any and every circumstance, I have learned the secret of facing plenty and hunger, abundance and need. I can do all things through him who strengthens me." (ESV)
Money can be a form of reward or blessing in Scripture.

Prov. 13:11- "Wealth gained hastily will dwindle, but whoever gathers little by little will increase it." (ESV)

Psalm 112:3 – "Wealth and riches are in his house, and his righteousness endures forever." (ESV)

These aren't necessarily promises, but they are principles.

Many other scriptures show examples of God blessing people with wealth or other physical blessings.
Money can be used to advance God's Kingdom and to bless others.

Luke 8:1-4- "Soon afterward he went on through cities and villages, proclaiming and bringing the good news of the kingdom of God. And the twelve were with him, and also some women who had been healed of evil spirits and infirmities: Mary, called Magdalene, from whom seven demons had gone out, and Joanna, the wife of Chuza, Herod's household manager, and Susanna, and many others,

who provided for them out of their means."

(ESV)

These women were providing financial means to help the ministry of Jesus take place.
My big picture view of a Biblical money mindset:
It is okay to have money and to earn money

We should acknowledge that God is our provider of everything, including our finances and our ability to work and earn money

We should be content with what we have and hold everything loosely

We should steward well what we are given by God

We should live with generosity
Ultimately, God cares about our motives when it comes to money.
We should examine ourselves by asking:
Are we getting money in unjust ways?

Are we greedy?

Is money becoming an idol?
2.

Evaluate your own thoughts, beliefs, and practices when it comes to money.

One thing you may have heard others talk about when it comes to money is to look at your money story. Just like anything else we believe, we need to look at it and hold it up to the Truth to see what needs to change.

What are the things you think and feel about money, and how do you treat money right now?

My money story
I grew up without a lot of money

I remember thinking that wealthy people were evil and/or it was wrong to have too much

I also felt jealous of those who had more than me

I struggled financially earlier on in my young adult life and married life, but money was often very tight

I started earning more with my direct sales biz, but often ended up spending more and not saving well.

At the same time, I've always prioritized tithing and giving to God a % of my family's income.

I have also always wanted to be generous with my money as well as time and resources
It wasn't really until the past several years that I started to really evaluate my own perspective around money. I started to consider what I believed about money and tried to determine if it was true or if it was simply what I had learned growing up. I also started paying attention to the habits or practices I had around money that were not healthy or didn't line up with Scripture.
For example, there have been times when I've been overly focused on how much money is in the bank account or how to make sure we could pay for certain things. When I start to focus more on this than on my relationship with God or on how I can bless others, then I know there's a problem.
3. Identify which mindsets, beliefs, or habits are unhealthy or untrue
One of the beliefs that was holding me back was the idea that I had to figure all things business out on my own and that I shouldn't spend money to help me go faster.
It was a scarcity mindset, stemming from my childhood views on money; I was afraid to spend money on my business because I was afraid that I would run out and that I wouldn't be able to recoup that money.
Scripture shows me that God is my ultimate provider. If I rely on Him to provide what I need, then I don't have to be worried about running out. Matthew 6 discusses not worrying about tomorrow, so I took this idea from scripture and really meditated on it. I had to start believing that my finances and provision were not entirely up to me. I learned that ultimately, it is God who can provide for me and who gives me the ability to work and earn an income.
4. Change your thoughts and practices to line up with the truth of scripture.
Finally, we have to change what we think and what we do to reflect the truth.
Changing my mindset around money as a business owner meant that I not only had to change how I was thinking AND I had to take action steps to reflect this belief.
So if my new belief was going to be, "God is my provider, and he gave me gifts and abilities that I can use to generate an income. He can always provide more for me if I need it", then I had to act in this way as well.
I took some steps to spend money in my business that would allow me to actually earn more. Then I started to watch the results of what happened when I was acting on the scarcity mindset vs. an abundance mindset.
I found that when I did invest a small amount in my business, I often moved forward much faster and found success more quickly than when I tried to do it on my own as opposed to when I was fearful about investing and tried to hold on tightly to the income I did earn.
I learned that I still need to make wise financial decisions, but I can leverage the experience and knowledge of others to get results faster.
I was able to stop focusing on those negative, scarcity based beliefs and lean on the truth of God's word, which was backed up by the results that I started to see.
Your Next Steps to Developing a Biblical Money Mindset:
After doing these 4 steps, you basically will want to continue to repeat these steps over and over.
Don't stop studying Scripture to understand.

Continue to evaluate your thoughts and beliefs about money.

Work to shift them to line up with truth.

Then change your actions to reflect this.
This is not a one and done process – it will probably take time to work through the various thoughts, hangups, and challenges you have around money. So I encourage you to continue to pursue a Biblical perspective on money and be sure to evaluate everything you hear on this topic in light of Scripture.
Additional Resources about Biblical Money Mindset
Ready to start bringing in consistent income into your business? Having consistent clients in your business is the first step. That's why I'm exited to offer you my free training.
In this challenge, you'll:
Know how to become referable (so that you start getting those potential clients coming your way)

Discover how to stand out in a noisy online space (so that people pay attention to what you have to share)

Learn how to reach out without feeling icky (even if you're an introvert and hate promoting yourself)
Join the Consistent Clients Challenge- April 11-14, 2022. (Challenge is currently closed, but you can grab my FREE Ideal Life & Biz Guide and you'll be notified when I offer a challenge again).
Quotes to Note:
"God cares about our motives when it comes to money."
"God is our provider of everything, including our finances and our ability to work and earn money."
Connect with Me: